Creative Assessment
Elevate Your Brand with Data-Driven Video Creative
Use real-time measurement to understand the effectiveness and emotional impact of your ads and those of your competitors.
Overview
Evaluate the Creative Impact of Video Ads on Any Screen
Capturing consumers' attention isn't a given — it's earned with high-quality, emotionally-engaging content that cuts through the clutter. Better inform creative strategy and development with survey-based assessment.
Quantitative Analytics
Objectively measure video creative performance and viewers' emotional responses to ads.
Robust Benchmarks
Compare creative performance against relevant benchmarks including industry, category, brand, event and trend-specific norms.
Qualitative Insights
Understand the "why" behind scores and get specific feedback on your ad with hundreds of viewers' verbatim comments.
Rapid Turnarounds
Measure the creative impact of every in-market TV and video ad in real-time with 24 hour turnaround time on testing.
Ace Pre
Test Video Creative Effectiveness Before Going Live
Traditional survey-based methods are either too slow, too expensive, or both. Ace pre-market testing changes all of that. Get robust, cost-effective results within 24 hours at each stage of creative development.
Test at Every Stage
Leverage Ace Pre in planning, storyboarding, animatic and near-final stages of creative development to hone your message and ensure in-market success.
500+ Respondents
Weighted to the US Census, the largest gen pop panel in the industry ensures a nationally representative sample and allows for deep demographic breaks.
Iterate Before Launch
Quickly test creative versions and make adjustments before airing to improve persuasion, comprehension, and relevancy.
Enhanced Assessment
Customize sampling and survey questions to measure performance among highly targeted audiences and gather tailored feedback.
Ace Live
Always-On Campaign and Competitive Insights
You can only know how good your ad is if you know how it compares to everyone else's. Measuring creative impact in a vacuum without in-market context doesn't cut it.
115K+ Video Ads
Analyze and compare creative performance against your own historical ads and those of your competitors while leveraging industry, category and brand-specific benchmarks.
Track Performance
Immediately and continuously monitor how creatives and media placements are performing and quickly react to improve performance.
Always-On Access
No more spreadsheets or delayed reports. Analyze ad results and quickly drill down into consumer segments and filter data via an intuitive dashboard.
The beauty of Ace is that we also get to see what other spots within our industry or outside our industry are doing to help us gauge how a message is being utilized.
Ace Short
Master Short-Form TV and Video Ads
Short-form ads are gaining traction as time spent watching videos online continues to grow. But marketers still have a lot to learn about this relatively new format. Land your 6-10 second ads with Ace Short.
Over 2K Short-Form Video Ads
Make more informed decisions for short-form video ads with access to the largest comparative database of ads under 11 seconds.
Ideal for Iterative Creative Testing
Quick turnaround times and accessible data make it easy to test multiple creative lengths and drive data-informed media targeting decisions.
Optimized Surveys for Mobile Viewers
Our mobile-friendly survey design reaches respondents where they are watching most and allows for lightning-fast turnaround times.
Custom Insights Tailored to Your Goals
Metrics are specifically designed to assess short-form ad objectives so marketers can uncover actionable insights to optimize the format.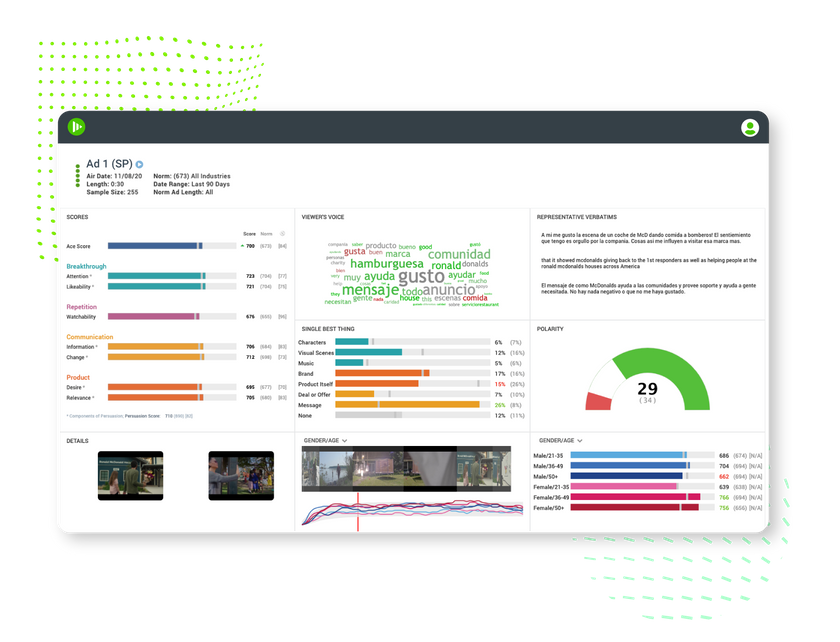 Ace VIVA
Test Spanish-Speaking Ads With Hispanic TV and Video Viewers
Other firms can conduct individual, Spanish-language ad tests. But there's only one that can provide comparability and competitive context from other in-market Hispanic ads.
True Spanish-Speaking Sample
Access high-quality data from the largest and most balanced sampling that primarily isolates Spanish-speaking individuals.
Deep Demographic Data
Analyze response data by demographics such as age/gender, household income, presence of children, and geographic region.
Comparative Insights
Leverage insights from thousands of Spanish TV and digital video ads from the world's leading brands across many categories.
Qualitative Feedback
Get a read on the voice-of-the consumer and see Spanish-language verbatim comments for every single ad.