Agency Solutions
Boost Client Campaign Performance with Real-Time TV Ad Insights
Give clients the real-time TV and streaming ad insights and optimal performance they crave with fast, accurate, actionable measurement and attribution.
Cross-Platform TV and Video Ad Measurement
Don't wait weeks to find out what happened yesterday. Monitor how client ads are reaching target audiences across traditional TV and streaming publishers, in real time.
Quickly Uncover Incremental Reach
Validate and optimize streaming investments with a real-time view of cross-platform reach and incremental impressions across 300+ CTV publishers.
Track Target Demo Performance
Measure how your client's campaigns are reaching specific audiences across screens and diagnose how to reach net-new consumers within target audiences.
Avoid Over Saturating TV Ad Audiences
Identify optimal cross-platform frequency levels before diminishing returns by monitoring overlapping impressions between traditional linear and CTV ads.
Eliminate Time-Consuming Reports
No more cobbling together reports to measure and optimize cross-platform TV ads. With iSpot, you have always-on insights at your fingertips.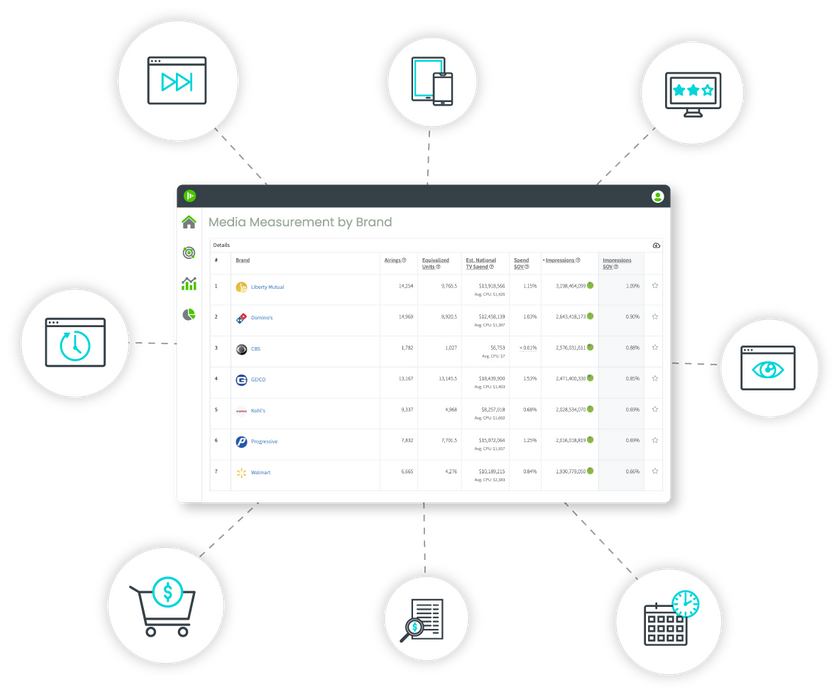 Move from Post-Campaign Reports to Real-Time Insights
Instantly verify media delivery, monitor creative wear and benchmark against the competition through an always-on dashboard.
Minimize Wasted Impressions
Track ad delivery at a granular level — down to competitive separation, pod placements and restricted networks.
Monitor Attention and Creative Wear
Are viewers paying attention to your new creative? Pinpoint the right frequency and ad lengths to manage creative wear.
Get an Edge on the Competition
Set clients up for success with deep competitive insights. Benchmark ads, spend and reach against competitors to get a leg up.
ACR-First and Accuracy Assured
Person-level impressions are instantly detected across smart TVs via ACR technology, calibrated against other data sets and balanced to the US Census.
Prove and Optimize the Business Impact of TV Ads and Creatives
TV advertising drives business outcomes, and you can help your clients prove it with iSpot TV ad attribution solutions.
Go Beyond Age & Gender Ratings
Transition from traditional TV ad measurement to demonstrating true ROAS to your clients. Quickly attribute TV ads to conversions and sales, and generate lift analyses with ease.
Comprehensive & Granular Insights
Gain a detailed view of performance metrics by brand, campaign, creative, along with recommendations to optimize ads toward conversions and lift.
Outcome-Based TV Media Buys
Leverage historical and industry-specific benchmarks to set the right KPIs for outcome-based buys, and real-time attribution to optimize campaigns toward your goals.
iSpot.tv has set a high benchmark for measuring ads at scale and sharing information broadly with the industry. That transparency and dedication to accuracy has established a foundation of trust on all sides of the industry, and made them an ideal partner to conduct such a massive test.
The iSpot Unified Measurement platform provided us with important insights into publisher and creative performance and will help inform and maximize the impact of future OTT investments.