Brand Solutions
Built for Brands to Justify and Optimize TV and Video Ad Investments
Future-proof your TV and video advertising with modern measurement purpose-built for brands to eliminate wasted budget, negative brand perception and unactionable data.
Creative Assessment
Avoid Damaging Your Brand with Untested Video Creative
Missing the mark with messaging is a top fear for CMOs. Fortunately, you don't have to rely on your gut to produce effective creative. Instead, test video ads with rapid survey-based creative assessment before going to market. Get robust analytics in 24 hours or less during planning and final stages of development, plus in-market insights to identify creative wear.
Creative Insights Include:
Brand
Recognition
Likeability
and Sentiment
Purchase
Intent
Emotional
Measurement
Voice-of-the
Consumer Comments
Industry Benchmarks
and More
Media Measurement
Remove the Guesswork from Media Buying and Optimization
Gone are the days of guessing on audiences and pay and pray tactics. With iSpot, you can instantly verify media buys are running according to plan and optimize creatives on the fly with real-time analytics.
Protect your Budget and the Brand
Instantly verify that TV ads are running according to plan to ensure competitive separation, self separation, brand safety and optimal reach.
Minimize Wasted Impressions
Monitor ads and creative wear in real time with accurate airing and impression data, and continuously optimize creatives based on interruption rates and benchmarks.
Get an Edge on the Competition
Refine your competitive strategy with a real-time view of any brand's TV ad creative and media plan. Make optimizations based on industry-specific insights and benchmarks.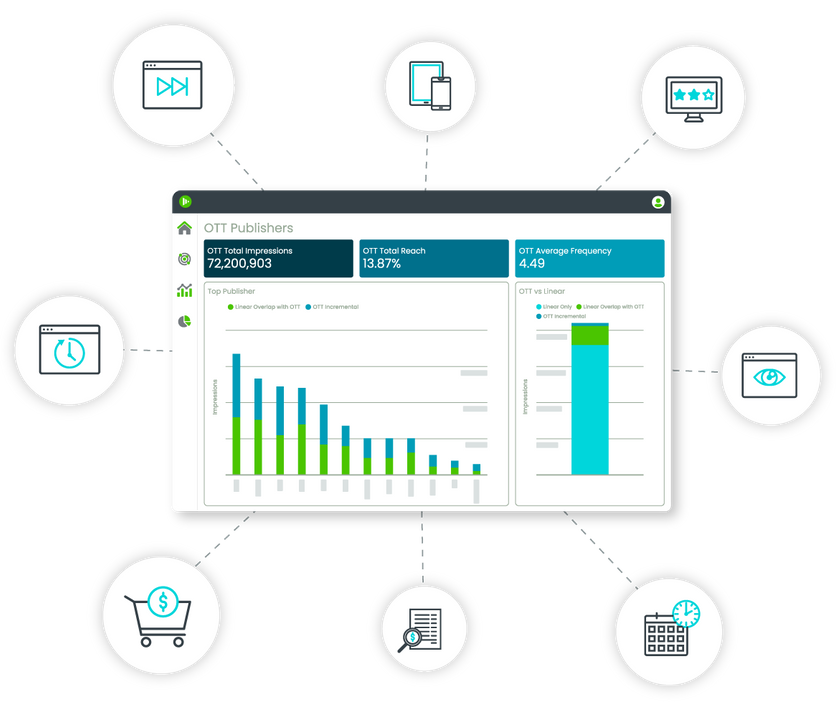 Unified Measurement
Move Beyond Fragmented TV and Video Ad Measurement
Confidently invest in streaming and linear TV advertising with fast, accurate and actionable cross-platform TV ad measurement.
No More Cobbled Together Reports
Consolidate linear and streaming ad reporting into a comprehensive, real-time view of cross-platform TV ad performance.
Confidently Justify Streaming Spend
Quickly uncover incremental reach and conversions delivered by streaming ads, and performance by individual streaming publishers.
Optimize Cross-Platform Frequency
Avoid over-saturating your audience with too many ads, and manage optimal frequency levels across linear and streaming platforms.
Dive into Demographics
Track your target audience performance with precise demographic breakdowns for cross-platform reach and conversion analytics.
TV Attribution & Lift
Stop Flying Blind on TV ROAS
Don't settle for age and gender ratings and lagging post-campaign reports. Attribute TV ad investments to real outcomes in real time.
Yield Results That Matter Most
Connect big-budget TV and video ads to your KPIs to measure and optimize cross-platform ad performance at the speed of digital.
Measure and Drive Incremental Lift
Attribute incremental conversions to media (networks, programs, etc.) with a real-time dashboard and best-in-class data science.
Optimize Creatives for Conversions
Monitor creative wear and test multiple versions in flight. Identify those with highest conversions and rotate out poor performers to drive ROAS.
With iSpot coming on board and bringing us better data, it really was transformative for our measurement and attribution.
Advanced Analytics
Break Down TV and Digital Silos
Combine your brand's marketing data with iSpot to uplevel TV advertising performance and your overall attribution strategy.
Optimize Buys with Custom Media Recommendations
Onboard 1st-party customer segments and/or 3rd-party data to illuminate unique media buying opportunities for reaching target audiences on TV.
Bring TV Ad Analytics Up to Speed with Digital Advertising
TV ad data doesn't need to lag behind other marketing channels. Directly integrate real-time TV ad exposure and conversion data into your models.
Gain Confidence in the Data Behind Your Reporting
iSpot has the largest and most accurate TV ad data feed on the market, leveraging exclusive rights to device-level exposures from the VIZIO footprint.
The iSpot Unified Measurement platform provided us with important insights into publisher and creative performance and will help inform and maximize the impact of future OTT investments.