Cross-Screen Media Measurement
TV Advertising is a Major Investment. You Can't Afford to Fly Blind.
Precisely measure the reach and creative wear of your TV and streaming ads — and benchmark against competitors — all in real time.
Overview
Real-Time TV & Streaming Ad Measurement You Can Trust
Say hello to the industry standard in real-time media measurement. Measure cross-platform TV ad reach with confidence, leveraging best-in-class solutions built on top of a universal ad catalog and proprietary data.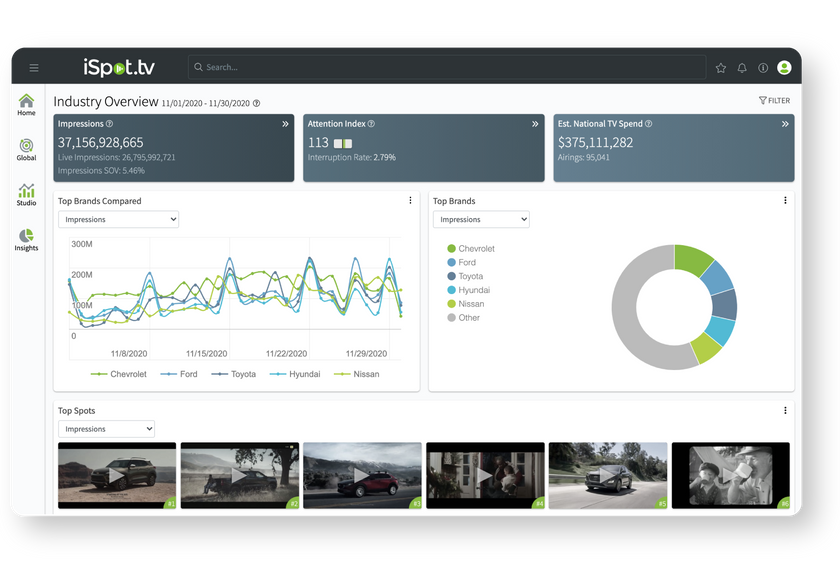 Your Ad + Every Ad on TV
Get a view of every creative on TV and streaming, associated with the most accurate real-time airings and impression data.
Leverage Cutting- Edge Technology
Patented software and best-in-class data science yields the most robust TV ad impression detection and attention measurement.
Ensure 100% Accuracy
TV ad viewing data is captured across 52M smart TVs and set top boxes, rigorously refined, and balanced to the US Census.
The iSpot Unified Measurement platform provided us with important insights into publisher and creative performance and will help inform and maximize the impact of future OTT investments.
Unified Measurement
Prove and Enhance the Value of Streaming Ads
With unified measurement across linear TV and 300+ DSPs and streaming publishers, you can measure and maximize the reach of cross-platform ads with ease.
Uncover Incremental Reach
Measure the incremental reach of streaming ads vs linear and identify the specific publishers that perform best.
Track Target Demo Performance
Ensure cross-platform ads are reaching target audiences as efficiently as possible with person-level measurement.
Identify Optimal Frequency
Get a view of every creative on TV and streaming, associated with the most accurate real-time airings and impression data.
Intelligently Allocate Budgets
Manage cross-platform ad exposures to ensure the right frequency levels before diminishing returns.
Dive into Unified Measurement
Competitive Intelligence
Get Deep, Competitive TV Ad Insights
Gain an edge by monitoring competitors' creatives and media plans with comprehensive, granular, and real-time insights.
Benchmark Performance
Measure how your ads, reach and spend stack up against industry averages and specific competitors.
Understand Share of Voice
Be the first to know when a competitor launches a new ad or creative with a real-time dashboard at your fingertips.
Monitor Creatives in Your Industry
With a breakdown of all ad activity in your industry, you'll know if you're over or under spending compared to competitors.
Drill into Media Plans
See the specific networks, shows, dayparts your competitors invest in most (and identify white space) to inform your strategy.
Learn More About Competitive Intelligence
Attention Analytics
Monitor Creative Wear for In-Flight Optimization
Is your new creative holding viewers' attention? With real-time Attention Analytics, you'll know when consumers start to tune out of your ads.
Gauge Performance as Creatives Launch
Immediately identify if consumers are switching channels or otherwise interrupting your ad at a high rate compared to norms.
Test and Compare Creative Versions
Analyze attention scores of different creative lengths and messages, then double down on top performers.
Make Sure Your Message is Seen
With second-by-second analytics, you'll know if longer creatives are holding attention and consumers are actually seeing your CTAs.
Enhance Overall TV Ad Strategy
Compare competitors' interruption rates with your own to gain an edge and better strategize media buys.
Brand Guidelines
Verify Ad Placements and Competitive Separation
Get instant verification that your TV ads are being inserted according to plan, down to the specific networks, shows and pod placements.
Ensure Brand Safety
Avoid negative brand association from ads appearing on restricted networks, programs or dayparts.
Cut Through the Clutter
Alert networks if your ads are appearing side-by-side or next to competitors' ads to improve the impact.
Gain Peace of Mind
With real-time data, you'll know whether you are getting the impressions you paid for and your ads are following brand guidelines.
We have seen a major improvement in accountability to our brand guidelines. The value of this pays for the tool itself.