Ace Metrix
Video Creative Assessment: How It Works
Fast and Accurate Assessment of Your Video Ad Creative
Rapid, survey-based video creative assessment provides marketers with accurate and actionable insights on ad effectiveness, at the speed to impact business decisions.
1. Innovative technology immediately captures every breaking ad
2. Proprietary fingerprinting determines which video ads are new or already tested
3. Unique panel of 500+ US consumers evaluate each breaking ad
4. Syndicated survey generates 20K+ quantitative and qualitative data points per ad
5. Data processed and delivered within 24 hours after a new video ad breaks
6. Deep creative insights accessible anytime via an always-on dashboard
Cutting-Edge Survey Targets Mobile Users
Mobile-first surveys reach respondents where they're watching most. Phone-friendly design makes it fast and fun for respondents to engage with the surveys. Respondents are recruited by world-class sample suppliers and source bias is eliminated by proprietary sample balancing to ensure data integrity.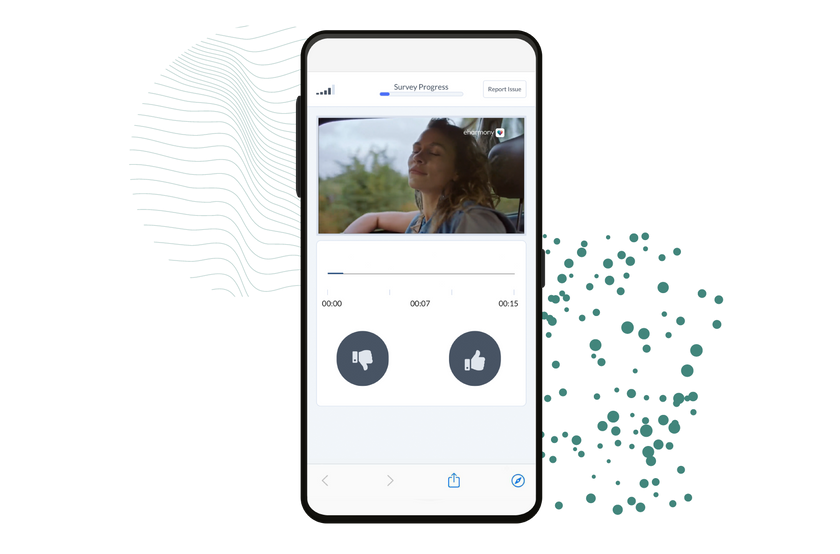 Deep Insights and Benchmarks on 115K+ Video Ads
The Ace LIVE creative assessment database totals over 115,000 ads from 4,300 brands across 118 categories, with over 20,000 quantitative and qualitative data points per ad. Compare performance across any number of ads and benchmark against industry, category or brand-specific norms as well as events and trends. Real-time results are available in the dashboard within 24 hours after an ad breaks.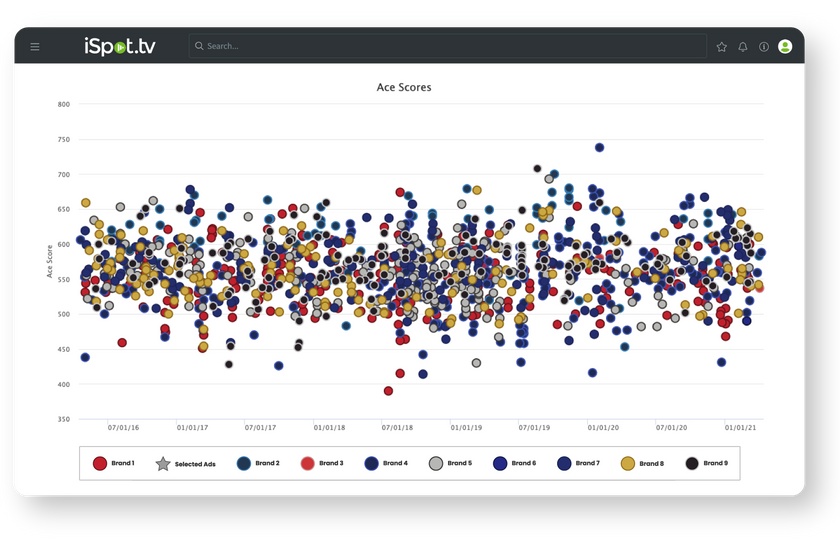 Quantitative: Objectively Measure Creative Effectiveness
A standardized survey measures the effectiveness of all ads on 6 factors most likely to influence consumer behavior including Relevance, Likeability, Information, Change, Attention and Desire — as well as Purchase Intent, Second-by-Second Resonance, unaided Brand Recognition, and emotional connection. No matter the campaign objective, Ace Metrix Creative Assessment has the KPIs to measure success.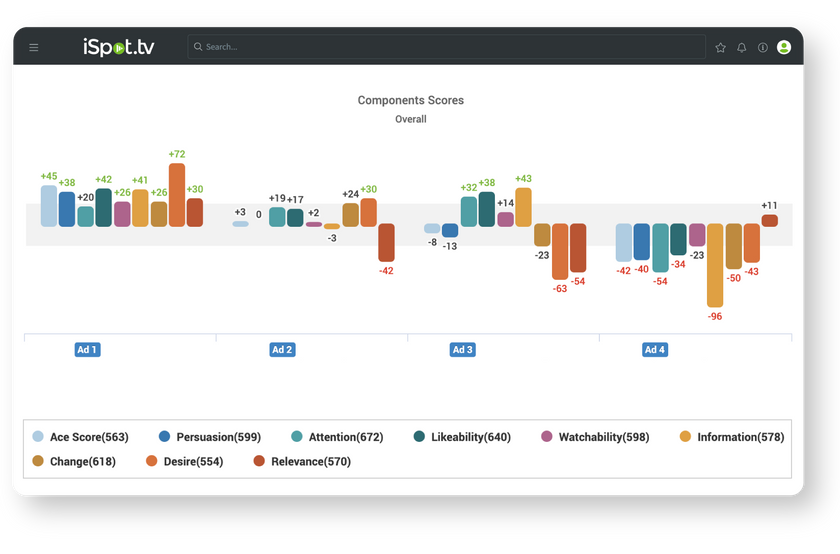 Qualitative: Understand Consumers' Hearts and Minds
Voluntary verbatim comments provide the WHY behind the quantitative scores. These unguided responses offer an unbiased view of what is mentally and emotionally breaking through with viewers and help marketers uncover specific feedback to refine their ads.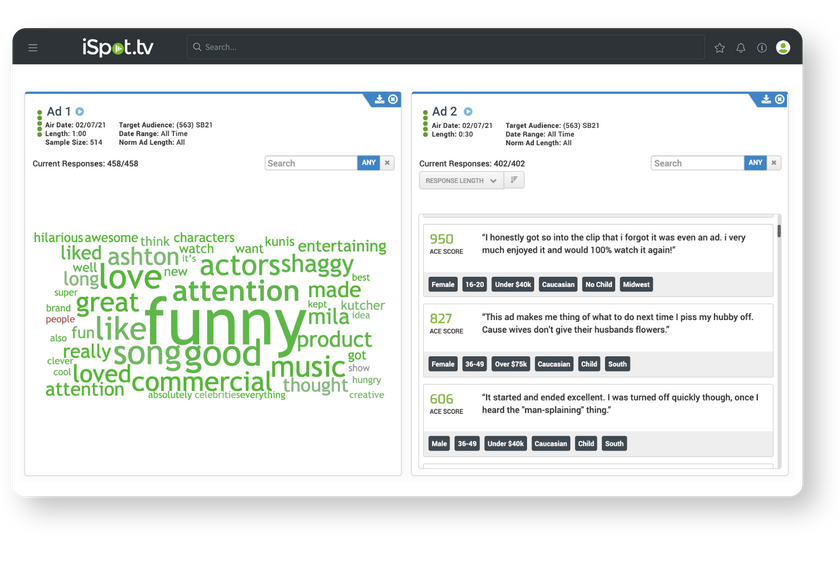 Measure Emotional Connection
From the qualitative data, emotional and cultural measures were developed using Natural Language Processing and machine learning analysis. Each ad is scored across 57 emotional metrics that reflect consumers' gut reactions to advertising. Scores are relative to every ad in the Ace LIVE database so marketers know whether or not an emotional message stands out in-market among a sea of ads.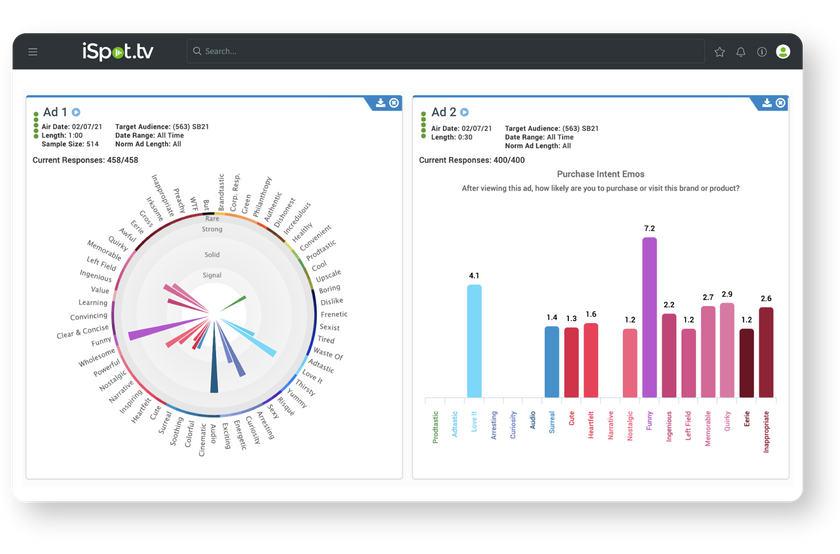 Rich and Robust Consumer Segments
Know what your target audience thinks about your ad and those of your competitors. Take advantage of the largest gen pop sample sizes in the industry that allow for deep demographic breaks without sacrificing data quality. Slice ad results by demographic, behavioral and/or psychographic segments with norms for benchmarking. Custom sampling allows marketers to understand performance among highly targeted segments.