iSpot is the leader in TV Attribution
Always-on TV Attribution
iSpot's industry leading always-on media measurement is the foundation for our always-on TV Attribution solution. Over 200 major brands trust iSpot's TV Attribution to measure, optimize and plan TV against their business outcomes. Our attribution connects directly to your online and offline KPIs or choose from one of our industry solutions that incorporate third party sales data.
Advanced Modeling Capabilities
iSpot's TV Attribution solution incorporates best-in breed and the latest in data science modeling approaches. Our attribution platform includes a fractional credit model with a multi-variant attribution window in order to capture every TV touch point. Our platform generates over 10,000 control group per day in order to create a pure lift measurement for the causal impact of TV. The combination of these approaches provides granular insights on the incremental performance of each network, daypart, program, creative, and more.
Making it Actionable
TV attribution is only useful if it's actionable. Making it actionable is hard and requires intimate understanding and expertise around how TV media is bought. Our platform enables you to measure ROAS so budgets can be defended or increased, allocate investments correctly across networks for upfront and scatter planning and finally optimize media on an ongoing basis based on creative, frequency, dayparts, program genre and specific programs.
Integration & Unification
In addition to our robust attribution platform, we can integrate our granular TV exposure data right with your own in-house or 3rd party platforms. This enables you to connect TV with other marketing channels for a unified MTA view of your entire media. Your own data science teams can further develop and enhance internal models and combine other data sources to take your marketing analytics capabilities to the next level. iSpot is fully integrated with all of the common marketing stacks including Oracle Data Cloud, Neustar, Experian, LiveRamp, Adobe and more.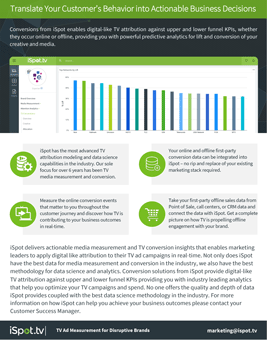 TV Conversion One Sheet
Translate your customer's behavior into actionable business decisions
Download One Sheet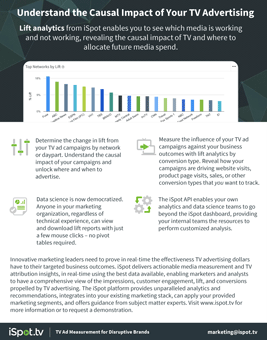 Lift 2.0 One Sheet
Understand the causal impact of your TV advertising
Download One Sheet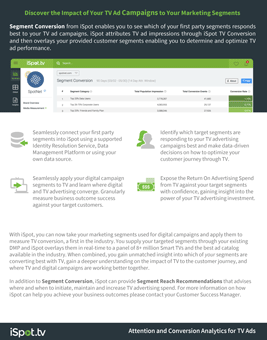 Segment Conversions One Sheet
Discover the impact of your TV ad campaigns to your marketing segments
Download One Sheet
Back to top