Ad Catalog Tracking
With more than 22,500 ad creatives fingerprinted and tracked monthly, iSpot has the largest and most robust catalog of TV commercials, movie trailers, and show promos.
Cataloging: Our proprietary technology catalogs and tracks TV ads in real-time across the top 114 broadcast and cable networks.
Tagging: Each ad is associated with one of nearly 10K advertisers, 165 different industry categories, 15,000 products, and tagged with 50+ data points.
Airings: iSpot tracks granular airings data including network, show, and airing times. We cross-calibrate our feeds across the country and operators, giving you real-time access to any brand's media plan.
Estimated Spend: Calculated in real-time, our algorithms take into account actual CPMs and dollar amounts spent by thousands of advertisers across every network, program and daypart.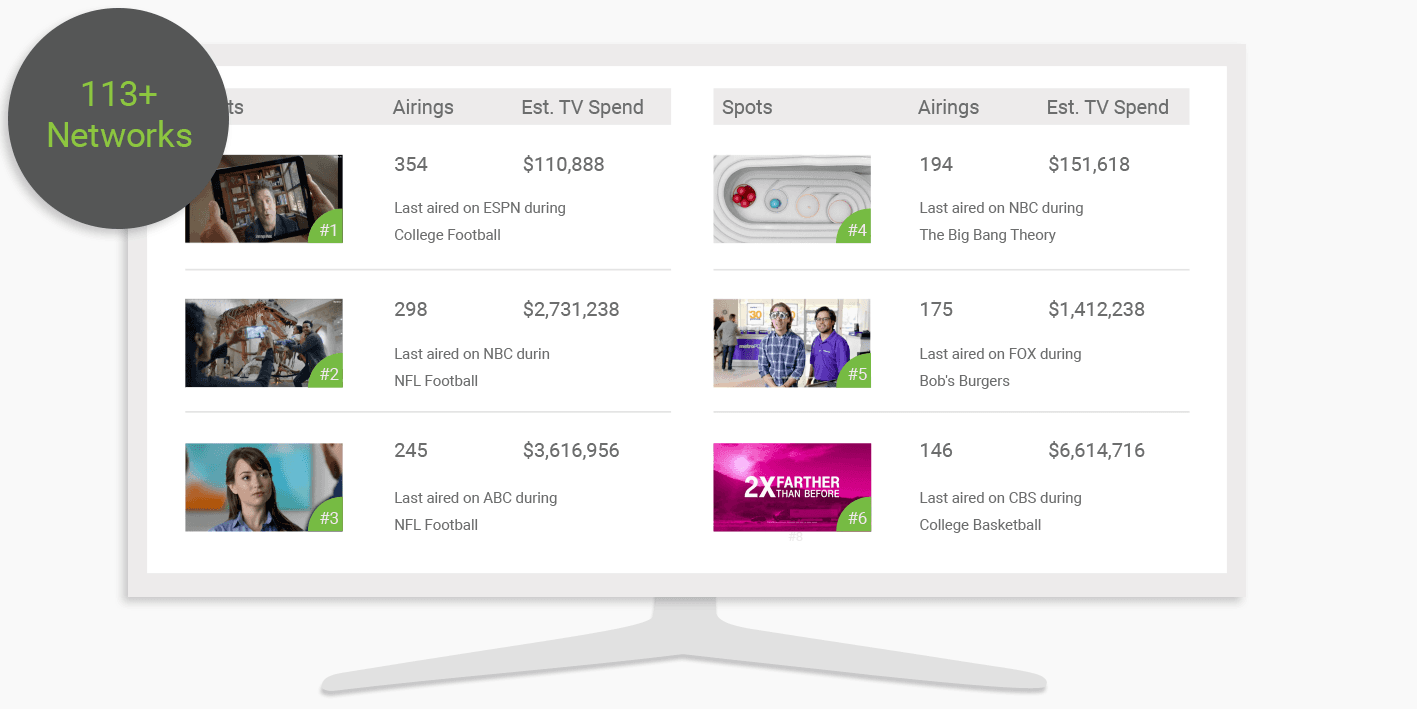 Ad Impressions
We measure TV ad impressions in a digital-like manner. Every ad in our catalog is tracked directly on 10M+ TV devices representing every zip code, operator, device, and method used to view TV. We provide the most comprehensive, unduplicated and unbiased measurement for TV ads.
Impression Types: iSpot technology classifies impression types into National, Local or VOD/OTT and Linear Impressions into Live or Time-Shifted (C3, C7 and C30) for a segmented look at your impression data.
View Rates: Measured directly from TV screens, our view rate data shows how much of your ad was viewed, by creative and separated by quartiles.
Demographic & Geographic Data: Our TV device population is evenly distributed across every zip code in the US and provides a clean representation of demographics and TV consumption habits across the US. Fully calibrated against US Census, we provide robust demographics and geographic consumption habits of every ad.
We take privacy seriously, and as such all of our measurement is done in a fully compliant manner and without having access to ANY personally identifiable information (PII). We do not directly possess any data, including IP addresses, MAC addresses, exact geographical coordinates or any other data that could potentially allow us to identify the individuals behind the TV screens we monitor.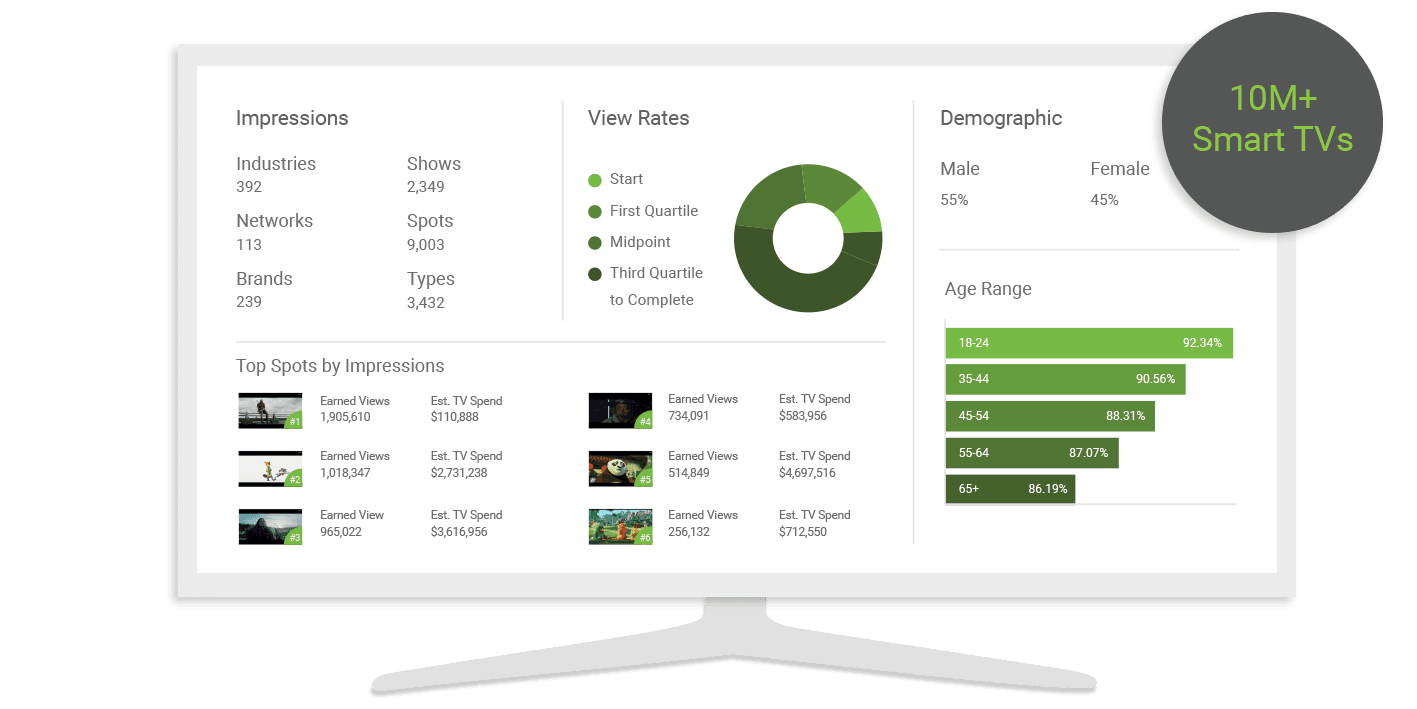 Ad Engagement
On the digital screen, we track 371.5 Million explicit interactions with TV ads across 53.1 Million unique consumers per month. These interactions include video plays, searches and social activity.
Video Views: See the volume of online plays generated by any spot that's running on TV broken out by total online views and earned vs. promoted plays, all in real-time.
Social: We analyze related social activity on Twitter and Facebook, including Facebook private, giving you access to performance indicators like the activity type by channel, online sentiment, demo, and geo data.
Engagement Score: Immediately understand how effective an ad is at generating earned digital activity and compare it to industry benchmarks across social, video, and search.
Search: Our extensive public library of TV Ads and deep metadata enables us to track and analyze commercial-related search activity across Google, Bing and Yahoo! tying back the activity and keywords in real-time to each individual creative.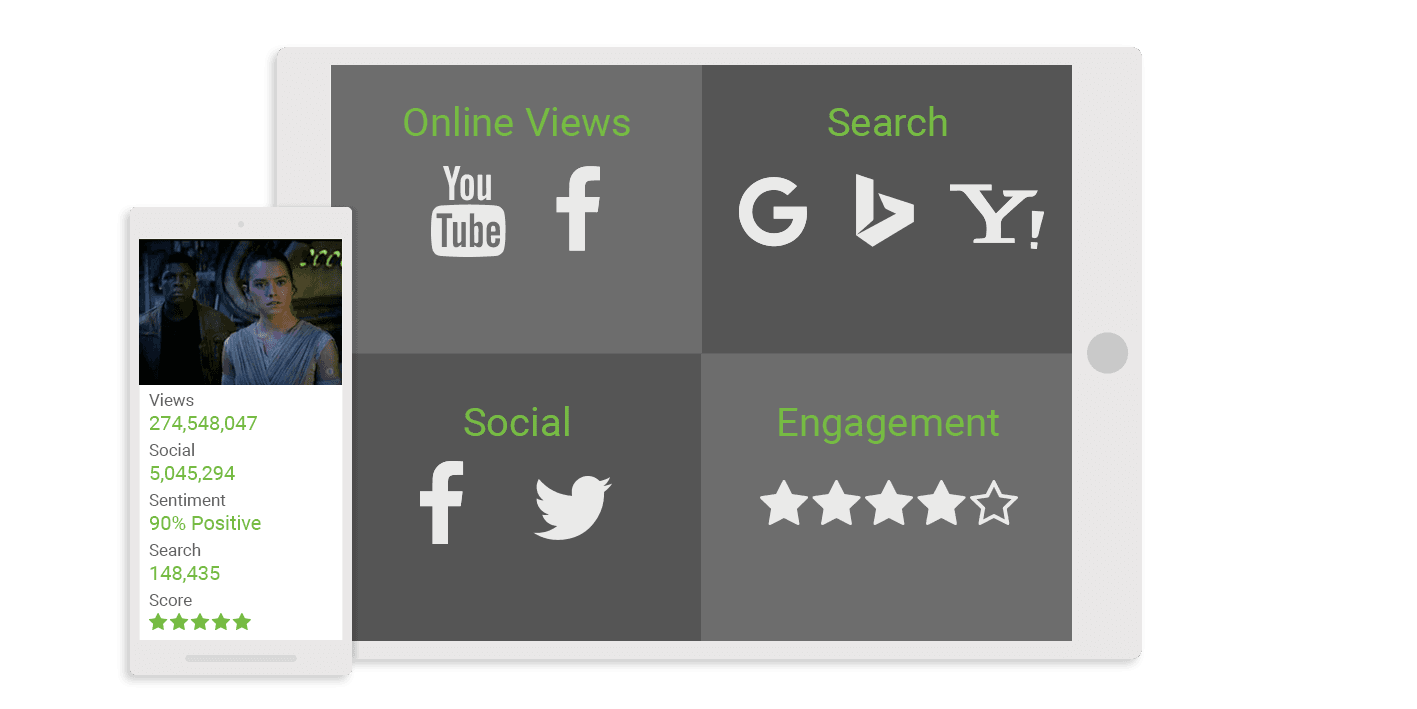 Ad to Sales Conversions
We track visitors all the way through to a sale or desired conversion and provide comprehensive analytics around which creative, network, daypart and program is most efficient at driving your desired result.
TV to Web/App Attribution: Simply embed a javascript code snippet onto your website or integrate the SDK with your app and let our solution take it from there. We track visitors all the way through to a sale or desired conversion and provide comprehensive analytics around which creative, network, daypart and program is most efficient at driving your desired result.
Household-level Closed Loop Measurement: Our custom analytics package provides a closed loop sales conversion measurement at the household level, all in a fully PII compliant manner!
Map our device population to your customer database at the household level.
Combine your sales data with our TV ad exposure data for you and your competitors.
We generate analytics around which ads and which media buys drove the most sales activity.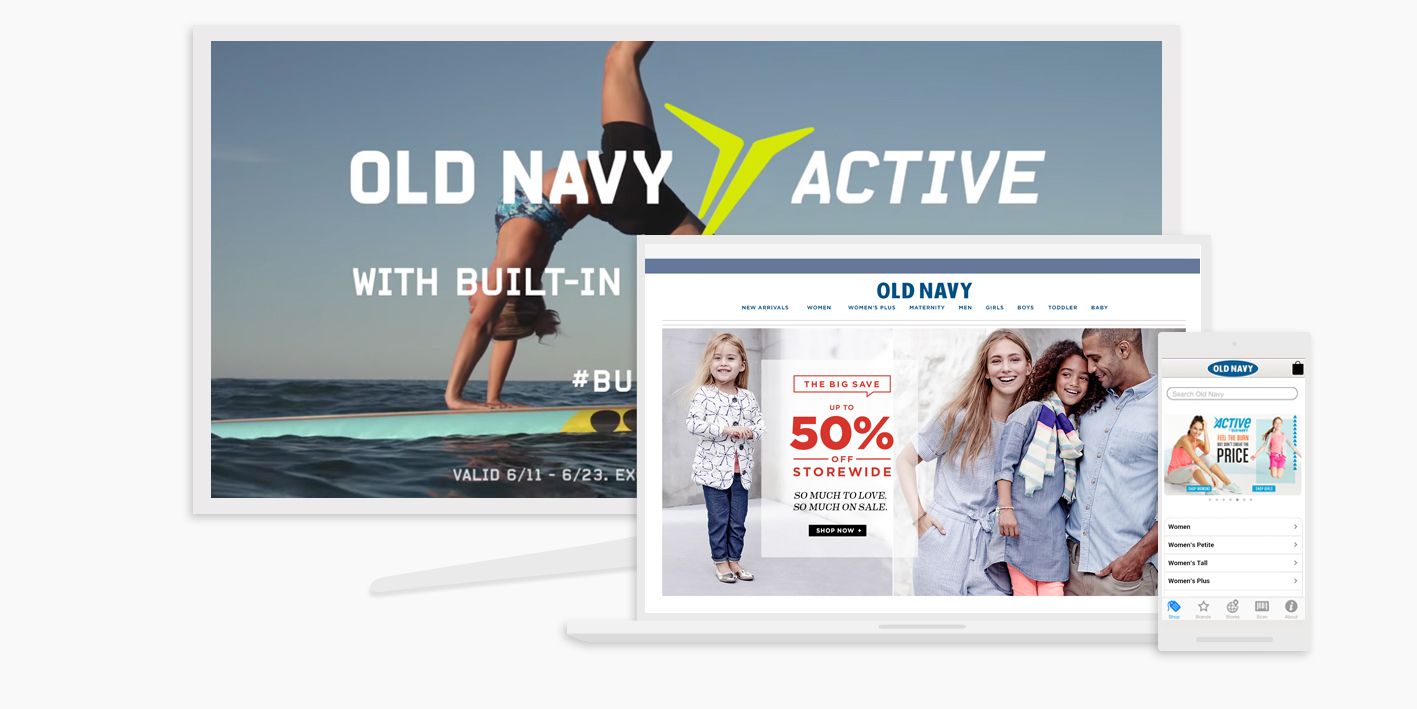 Data Integration
iSpot.tv maintains a comprehensive database of TV commercials, movie trailers, show promos, infomercials, and public service announcements. The breadth of information we maintain on each commercial and the speed at which new content is added to the catalog is unrivaled. With our Integration Services, this catalog is easily accessible.
REST API: Do you have other data sets that would benefit from iSpot's massive catalog? With the RESTful API, clients can pull relevant information for even more powerful analysis.
Real-time Service: Keep track of TV ads airing in real-time. By connecting to the Real-time Service, notifications of a new ad can be delivered as quickly as five seconds from when it starts airing.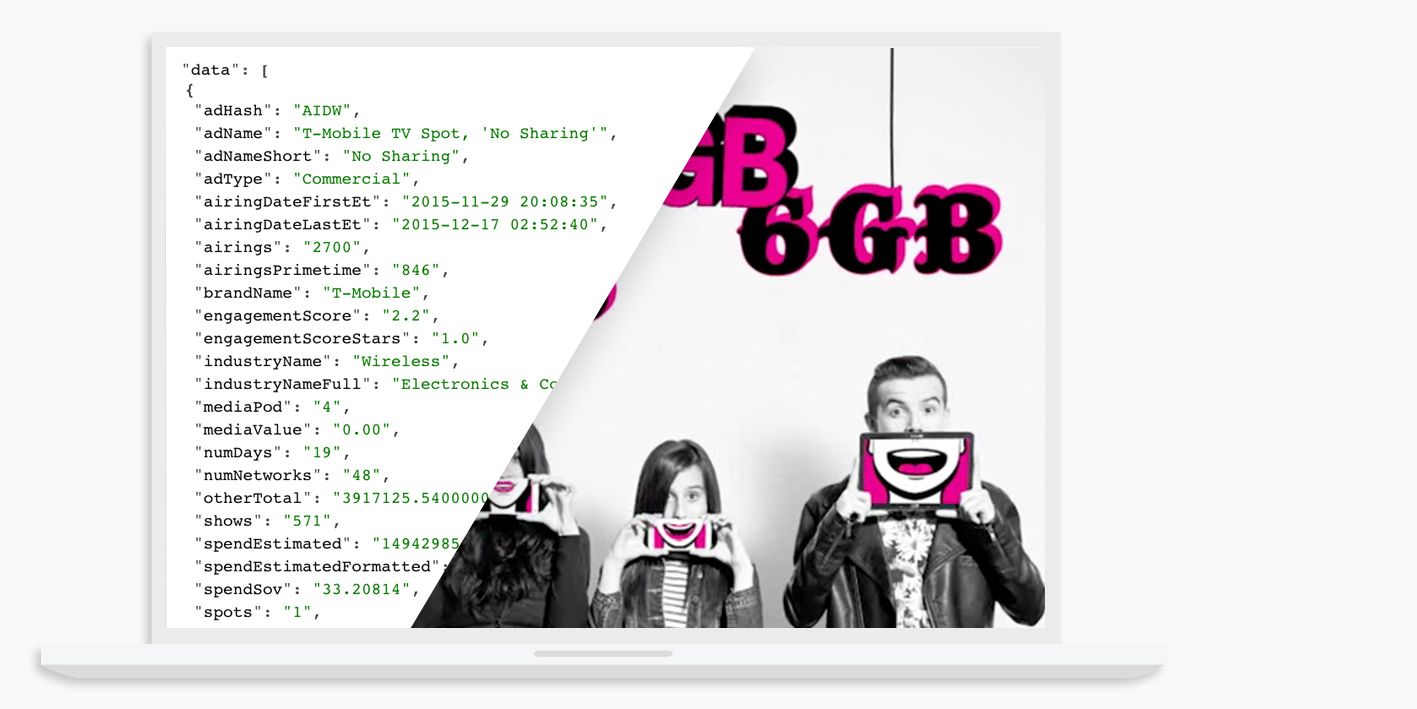 Ready for Real-time TV Ad Analytics? Get some...